Disability service providers (DSPs) at feeder institutions may refer outside evaluations to the UGA RCLD to determine eligibility for postsecondary accommodations and services. The UGA RCLD uses a blind review process with three evaluators independently reviewing the documentation against the guidelines established by the University System of Georgia Board of Regents (BOR). The following flow chart outlines the process for outside evaluation review.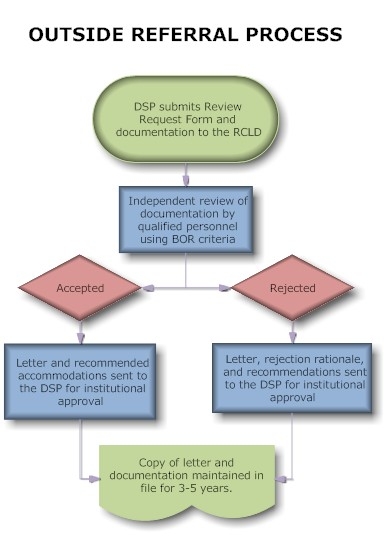 DSP submits Review Request Form and documentation to the RCLD.
Independent review of documentation by qualified personnel using USG BOR criteria.
If accepted, letter and recommended accommodations sent to the DSP for institutional approval. If rejected, letter, rejection rationale, and recommendations sent to the DSP for institutional review.
Copy of letter and documentation maintained in file for 3 to 5 years.